Here I'll discuss about 50 best free SEO tools list in 2020. SEO tools are short term of search engine optimization tools. There are many many SEO tools available in online. Some are premium and some are free. I'll discuss most effective and proven free SEO tools that can rank your website in google SERPs.
Free and premium SEO tool can improve your website in google search engine result page. Both tools are important to get best result in 2020. If possible? Use premium version of some tools.
So, Let's talk about 50 best free SEO tools. 
50 Best Free SEO Tools 2020 List
Here I have listed 50 best free SEO tools according my knowledge and study about SEO. All search engine optimization tools are not same strategy and status. I have divided  in five types of 50 best free SEO tools from all SEO tools list.
Let's see 50 best free SEO tools.
Best 10 SEO Analysis Tools
SEO analysis tools can analyze your website SEO status. You can see here various status like, meta tags, heading, alt attributes, URL resolve, robots.txt, XML sitemap, mobile friendliness etc. Let's see all best SEO analysis tools to checkup your website status 100% free under 50 best free SEO tools.
Woorank is website free SEO analysis tools with premium services. You can review and website SEO status by a seconds using this website. Also can find on page SEO and Off page SEO report both. After checking SEO report, you may take step to get your website rank in search engine.
seositecheckup.com is free SEO analysis website. Any website owner can check his/her website SEO status using with any payment. Using this site, You may get your website SEO lack in online. To improve your website ranking, fix all displayed issues.
Here, You may audit your website SEO lake using Nail Patel SEO analyzer tools. After checking SEO audit of your website, you can see the On-Page SEO score, organic monthly traffic, organic keywords and backlinks status easily.
seotesteronline.com is very good online SEO auditor. Blogger can check their website SEO status using SEO Tester Online. Here blogger can get base, content, speed and social SEO report by searching in seotesteronline.com.
Are looking for SEO checker online? seoptimer.com is on of the best SEO audit and reporting website. User can check their website SEO audit without login or registration online.
site-analyzer.com is the 360° SEO analyzer for any kinds of website. Site analyzer can analysis your website SEO report. After analyzing all issues of website, fix all issues according to analysis result. It has trial service to check their tools status. Try it for free and analyze your SEO!
The HOTH SEO audit website can scan your website. After scanning, You will get your site SEO status. Just submit your website URL, keyword and email address to get better SEO audit report under 50 best free SEO tools.
seomator.com is free SEO auditor website online. Usually need three minutes to analyze your website and display report. It displayed part by part SEO report of your website. To get rank on search engine, you may use this website service under 50 best free SEO tools.
zadroweb.com is known SEO audit tools online. By this website, You may get your website SEO report. Zadro Web will check your website SEO status and show report. According to report, you can take next step to get better search engine rank.
This website SEO score checker by smallseotools.com. One of the better SEO report tool online. To get rank search engine like google, yahoo etc scan your website today under 50 best free SEO tools.
Best 10 Keyword Research Tools
Keyword research is a practice SEO experts use to discover and research opportunity search phrases that humans enter into search engines like google, bing and yahoo at the same time as searching out a comparable difficulty. There are many kinds of keyword research tools online to find your best keyword for SEO.
Here I'm writing best 10 keyword research tools list.
Soovle is a superior keyword research tools. You can find your targeted keyword using this website from various search engine at a time. Soovle is offers a fast yet efficient solution to discovering keywords from the top search engines.
SEMrush is a SEO tool and a browser extension can help you to get keyword idea. They offers solutions for keyword research tools. SEO expert can better keyword idea from SEMrush. They have over 4000000 customers worldwide.
Serpstat is a tools provides keywords research and competitors keywords analysis. You can get idea organic keywords, PPC keywords and batch analysis from this keywords. Let's follow all feature about Serpstat.
keywordtool.io is the best free keyword planner tools for SEO & keyword research. The easiest way to find out what your potential customers are searching for on various tools. Keyword Tool will help you discover keywords related to any topic by automatically generating Google's search suggestions.
Here you will get idea about Google, YouTube, Bing, Amazone, eBay, Playstore, Instagram and Twitter a time. They also provide many type of best SEO tools.
Google keyword planner is a free Google Ads tool. It's for advertisers that's like a workshop for building new search network campaigns. You can use Google keyword planner tools to search for keywords and see how a list of keywords might perform.
It can help any blogger, SEO expert to get idea about search volume, visitors territory and most essentials options.
Ahrefs keywords explorer the most complete keyword research tool in online. Get lots of keyword ideas and get analyze their SEO ranking.  Also you can check difficulty and calculate their traffic or visitors analytics.
Here you'll get keyword idea, phrase match, search suggestion and rank status. Let's see more details by clicking above links. They also provide many type of best free SEO tools online.
SECockpit is keyword tool to find your targeted keyword. It can help you to find and analysis better keyword idea for SEO ranking. It will supply fastest and smart keyword idea online. So, It's also important for keyword researching online. They also provide many type of best free SEO tools.
Moz keyword explorer is better keyword explorer tools online. Here SEO expert and blogger can get better keyword idea using their free and premium both keyword research tool. They also provide many type of best free SEO tools online.
KWFinder is a traditional and competitor keyword research tool. It can help SEO expert and blogger to find long-tail keyword with very low SEO difficulty. KWFinder help you to find local keywords and alternative keywords in easy steps. KWFinder also provide many type of best free SEO tools.
Keyword Snatcher is very powerful and simple tool to use keyword research work. You can get better idea for your desired niche. You can use keyword snatcher tool to find your targeted keyword.
Best 10 Content Optimization Tools
Here I'm writing about best 10 content optimization tools under best free SEO tools article. Let's checkout content optimization tools to optimize website content for better SEO result. Let's checkout best 10 content optimization tools from all SEO tools list.
Webmaster tools is very important and content optimization tools. It will help you to see any bugs, alerts and indexing issues of website in any search engine. Google webmaster tool and Bing webmaster tool are most popular webmaster tool for verifying and connect with your website.
Robots.txt generator is an online tool for creating robots.txt files for your website. You can create a new generator file using the output of this generator. You have the option to easily pick which types of crawlers (Google, Yahoo, Baidu, Alexa, etc.) to allow or disallow depending on your preferences.
Plagiarism is the way toward taking others words or ideas imagining that they are your own. Here is free plagiarism checker tools online.
Copyscape is an online plagiarism checker that checks whether similar text content appears elsewhere on the web. Copyscape pass content is very important for on page SEO.
Google's structured data testing tool is a data testing tool. You can test your website data by pasting your website's URL. This tool will check the structured data code and flag errors. It can help you validate structured data code is in the right format or not. This tools is the best free SEO tools.
XML sitemaps protocol allows a webmaster to inform search engines about URLs on a website that are available for crawling. It allows webmasters to include additional information about each URL. You can find XML sitemap generator online from our free tools. Let's see how to generate XML sitemap?
Schema creator is a collaborative, community interest with a undertaking to create and keep schemas for dependent statistics at the internet, on web pages. Schema creator tool to help web designers better understand and utilize Schema.org. Using microdata attributes appeared fashionable at the time, as it meant that you can markup your current HTML without changing the appearance of the pages.
Google PageSpeed Insights reports on the performance of a page on both mobile and desktop devices. It provides suggestions on how that page speed may be improved. PSI provides load time, images size, CSS and javascript status. Should follow Google PageSpeed Insights result and fix for SEO ranking.
Rank Math is WordPress SEO plugin to help you website rank higher in search engines. It can help you to optimize your WordPress website content very easily. Follow all instruction according to Rank Math plugin to fully optimize your website content. It's one of the best free SEO tools.
Yoast is the most complete WordPress SEO plugin to rank your WordPress website. It can help you to technical optimization of your website It also assists with optimizing your website content. Finish all steps to get better ranking in any search engine.
All in One SEO pack to optimize your WordPress website content. This plugin will help your website to get heights rank in any search engine. You can follow all issues of this plugin.
Best 10 Backlink Analysis Tools
Backlink analysis tool is for analysis your website backlink status, like; follow backlink, nofollow backlink, quality backlink, inbound backlink. So use bellow list to get your website backlink analysis. These are best free SEO tools from all SEO tools list.
Ahrefs backlink checker is best one of the backlink checker tools online. You can get details about your backlink like; follow or not, anchor text, link url etc. There are free and premium both service is available in ahrefs backlink checker tool.
SEMrush  is powerful backlink checker tools. It can shows all backlinks pointing to your domain. Also find those backlink quality at a time! This backlinks checker tool helps you to discover your website or domain backlinks. Use this best free SEO tools.

All backlink finder or checker tool can find total condition of your website's backlink. Their backlink checker tool is free and easy to access. Here you can check your Dofollow and Nofollow both backlink status with a minute.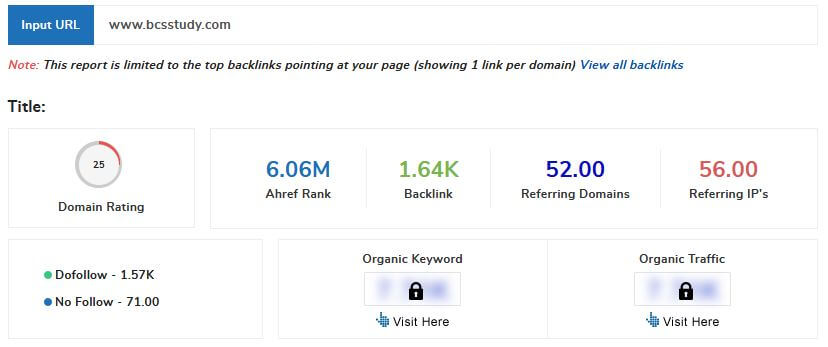 The Hoth is most popular backlink checker tool online. SEO expert or Blogger can find their website backlink using this tools very quickly and smartly. Here you will see all status of your domain backlink. It's also best free SEO tools.
Monitor backlink checker tool is available for all online user and website owner. Here you will get better backlink check idea. Let's see their checking quality by clinking above link.
Sitechecker is one of the best backlink checker tool online. This free tool will help you monitor links to your website or domain. Here will get total external backlinks, total referring domains, total dofollow backlinks and total nofollow backlinks.
Linkminer is also free backlink checker tool online. SEO expert or blogger can signup and check their website backlink status. You can access this tools very easy and simply steps. Let's see their survives.
Majestic has two system to check your website backlink status. There are a) Fresh index and b) Historic index. Here you can see previous status of your website backlonk using their premium services.
Linkody has provide 30 days free trail services without any payment. Just they connect your credit card for bot verification. Also never bill with your activation packages. So, it's also good quality backlink checker tool.
After submitting your website in Duplichecker, you will see your website backlink result. Here you will see details of your website backlink. Include backlink type, rating, cheking URL etc.
Best 10 Rank Tracking Tools
Website rank tracking tool can track your website rank in various search engine like Google, Bing, MSN, Yahoo etc. These tools are best free SEO tools online. Here I'm writing best 10 website rank tracing tools online.
Alexa is the most powerful SEO tools to rank your website in any search engine. Here you can get a free and automated website analysis to quickly gain insights your website. Using this website or best free SEO tools, SEO experts can find their website total SEO status like, top keywords by traffic, search traffic, keyword opportunity, competitors keyword position etc.
Conclusion
Finally finished post about 50 best free SEO tools online. You can ask any question about this article by comment. Just throw a question using comment, we will reply as soon as possible with best solution of your problems. Thanks for visiting our best free SEO tools and stay with us.