If you are looking for best SEO tools PHP script 2022 online? You should search various search engine and make decision to choose any SEO tools PHP script. There are many types of SEO tools PHP script. Here I'm listing best 14 script for you.
I have checked some SEO tools PHP script and create bellow list. Here's listed according to user reviews and sales position online. Also I have checked their script status about services and support.
Best SEO Tools PHP Script List 2022
SEO tools PHP script are a type of PHP script to create SEO analysis, audit, status checker and SEO service related website. Most of the script are used for checking website SEO issues like, missing any information. SEO tools script can identify your website SEO problems. Here blogger or SEO expert can check all on page SEO and off page SEO status like, right title tag, right meta title, header tags.
Let's talk about list of best 14 SEO php script.
AtoZ SEO Tools is one of the best SEO tools script online. It can track and improve visibility of your website in any search engine. This script conduct full SEO analysis of your website like keyword research, backlink check, backlink making, keyword density and many more.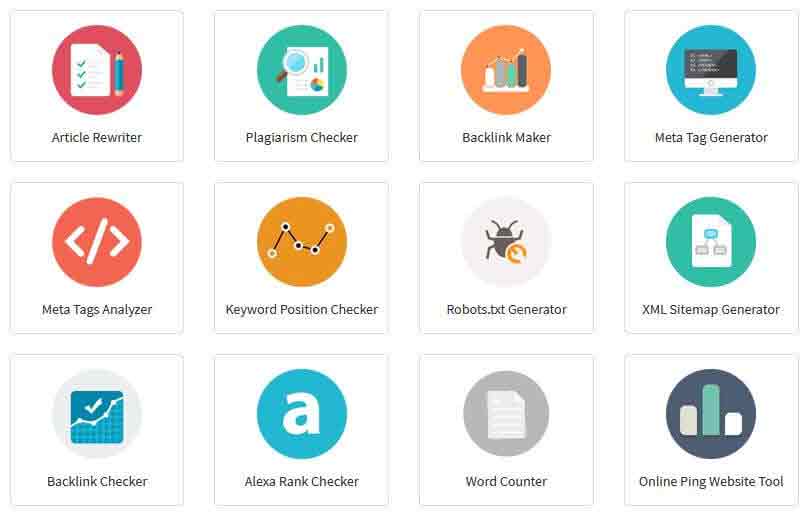 Top Features:-
Manageable admin dashboard to see analytics, visitors log, visitor status and all about visitors.
Social auth login system to user login by Facebook, Twitter and Google.
Very easy user management system.
Captcha system to prevent spam in all tools
Easy SEO friendly URL system and sitemap generator
Responsive design view for all device.
Easy ad managing system
One click install system
Main SEO Tools:-

Plagiarism Checker
Domain Authority Checker
Page Authority Checker
Broken Links Finder
Backlink Maker
Meta Tag Generator
Robots.txt Generator
XML Sitemap Generator
URL Rewriting Tool
Mozrank Checker
Keywords Suggestion Tool
Keyword Position Checker
Keyword Density Checker and More…
Price: $40
XeroSEO is the most complete visitor analytics and SEO tools PHP script. Here is included visitor analytics, Web analytics and SEO tools. You also get several bonus utility tools to generate metatag, check plagiarism and many more. Also PayPal and Stripe payment gateway are included in this script.
Top Features & Tools:-
Domain Analysis
Keyword Analysis
Website Analytics
Rank & Index Analysis
Visitor Analytics
Social Network Analysis
Backlink & Ping
Malware Scan
Bitly URL Shortener
Code Minifier
Price: $49
Turbo website reviewer is helpful SEO tools PHP script. This script will help to identify website SEO mistake and optimize your website better search engine ranking. SEO expert can check on page SEO issues. Using this script, visitor can save website report PDF format. Follow all features to choice PHP code SEO tools script.

Top Features:-
OAuth login system support for social login
Multilingual support for more language
Best user management system
Responsive design for all device
SEO friendly URL
Captcha protection to prevent spam
AdBlock detection system
DDoS detection / protection system
Easy maintenance mode
Unlimited custom pages support
Price: $30
Small SEO tools is powerful WordPress theme include 20 built in SEO tools. You can create SEO and website analysis service based website using this  SEO script (WordPress theme). Let's see the feature and best SEO tools script details in more description.
Main Features:-
WordPress theme based script
Powerful 20 tools included
Easy to install and maintain
No need codding experience
All device compatibility
Key SEO Tolls:-
Backlinks Generator Tool
Article Rewriter Tool
Search Engines Submitter Tool
XML Sitemap Generator Tool
Longtail Keywords Finder Tool
Keyword Density Checker Tool
Meta Tags Generator Tool
Social Signal Checker Tool
Webpage Speed Test Tool
Keyword Typo Generator Tool
CSS Code Compressor Tool
Website Status Checker Tool
Source Code Viewer Tool
Dummy Text Generator Tool
Domain Availability Checker Tool
On-page SEO Checker Tool
Price: $45
Website Review is a also best SEO php script to analyze your website. You can get idea about On page of your website. Here you can see Title, Description, Keyword, IMG tag, URL rewriting, page-speed inside and many issues. After find out all issues, SEO expert or blogger can fix missing inside website.
Main Features & Tools:-
Responsive layout for all device
Sitemap generator to create SEO sitemap
Google PageSpeed Insights
Meta tags crawler and analyzer
Content analyzer
Multi language system support
Website speed up tips
Websites ratings system
Complete website review and More…
Price: $18
SiteDoctor is the best SEO tools PHP script to check your website SEO health within a minute. It will help to make your website more SEO friendly. SiteDoctor identify your website title, description, keyword, tag, etc. status. You can add more language very easily.
Key Features:-
Title, Meta & Keyword check
Multilingual support to add more language
Responsive design for all device view
Mobile friendly status check
Google PageSpeed test
HTML, CSS and JS minify
Website rank test
Robots and Sitemap check
Price: $30
SEO Studio is a high quality SEO tools PHP script for SEO analysis and status check. SEO expert and blogger can use this script to make more SEO friendly their website. All backlink status are found in this php code seo tools.
Main Features:-
Total 21 in-depth and high-quality SEO tools
Easy language translator
Easy user management system
There is not any paid APIs
Automatic updates.
Top SEO Tolls:-
Robots.txt
Sitemap
Crawl ability check
Keyword research
Keyword density
Website speed test
Backlink status
Google and Bing SERP
Top search query
Price: $30
ProRank is one the useful and high quality SEO analyzer tool. It can find your website SEO weakness and improve your website ranking. You can calculate your website SEO status or audit SEO status within five minutes.
Key Features:-
Website Analysis
Domain Analysis and Keywords
Speed and Optimization
Traffic Status
Geolocation and Filters
Users and Social Login
Professional Script
Dashboard and Administration
Top SEO Tolls:-
Membership and Paid Subscription
Webcache System
Sitemap Automatized with gzip Support
Google Pagespeed Insights
Cronjob System for Background Process
PDF Report
Multilingual Support
All Email Feature
Chrome Plugin Generator
Price: $35
SEO hunt is a website script to analyze website SEO status or SEO data report by a single click. Using this script you can identify your website SEO problems and suggest to solve them. All report will show in one page.
Main Features:-
Website Status
Response Time
Overall Score
Country/ ISP info
Display Site Score
Main SEO Tolls:-
Common SEO Issue
Speed Optimization
Server and Security
Mobile and Social Media
Backend Admin features
Price: $14
Bulk SEO Checker is SEO tools PHP script to audit SEO report include XML sitemap. You need to put your website URL and this script will automatically generate audit SEO report.
This script will tests and collect the main SEO audit status like (title, meta tag, description, header, open graph protocol NEW, webpage content, links, images, alt tag, external files, etc.).
Main Features:-
100% source code
The script is ready to use
Multi language ready
Check any sitemap XML file
No database required
Possibility to get all the details checks
Design clean and responsive design
No API or external services required!
Unlimited URLs to Check
Price: $11
SEO information portal is a powerful SEO tools PHP script to get complement website SEO status. User can get SEO report easily and fast in various format like CSV, JASON, XML etc.
Top Features:-
Quick and Easy Installation
More than 20 SEO metrics
100% Responsive design
Dynamic Sitemap
reCaptcha enabled
Export comparison data
Bad words filter
Manage Ads spots
Easily add/edit custom pages
Compare multiple website's SEO metrics
Main SEO Tolls:-
Meta Tags Checker
Important Tags Count
Code to Text Ratio
Alexa Rank Checker
Moz Rank & Backlinks
Page Authority
Domain Authority
SemRush Rank
Dmoz Listing
Search Engine Indexed Pages
Price: $20
SEO website manager is a 100% automated and SEO crawler seo tools script codecanyon. You can check your blog or domain SEO checklist using this script.
Main Features:-
Complete Automation for SEO Status
Complete Blog Management Tool
Manage Link Building Campaigns
Earnings & Accounts
Social Media Campaigns Management
Unlimited Blog/Websites Management
Inbuilt Todo manager with Milestones & Groups
Price: $26
SEO monster 2 is SEO php script to SEO analysis. It can calculate more than 30 SEO status of any website. User can download PDF file of SEO audit report of his/her website.
Main Features:-
Easy to install & use
Over 30 SEO checks
Google AdSense & analytics
Fully customizable SEO reports
View/Download the reports as PDF
Highly customizable via admin panel
Price: $21
Webmaster tools is a lightweight and easy tool to find your website SEO problems and help to find solution. There are 20 built in unique SEO services tool to configure and install very easy.
Key Features:-
Backlink Count
Website Diagnostic
Alexa Statistics
Social Analytics
Indexed Pages
MD5/SHA-1 Hashing
Duplicate Remover
HTML Encoder
UNIX Time Converter
Text Length Online
Google Suggestion Tool
Antispam Protector
Meta Tags Generator
Og Properties Generator
Password Generator
WHOIS Service
DNS Record Lookup
HTTP Headers
Price: $20
Are you interested to buy SUMO Affiliates Pro plugins? If yes? Buy SUMO Affiliates Pro now.
Conclusion
Last part of best SEO tools PHP script 2022, you can ask any question or query to us using throw comment. We'll reply as soon as possible as per your identified problems. Thank you for visiting our website and keep in touch for next update. Buy Business ERP Solution